Personal Injury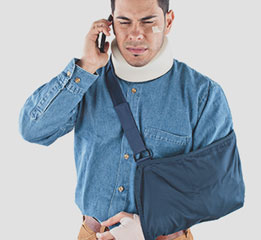 Accidents and injuries have become a virtually unavoidable aspect of modern life and can affect anyone at anytime. When accidents or injuries occur, the effects can be devastating, even life-altering. However, the fact that they are commonplace does not mitigate such effects. Those who have suffered harm or injury as the result of someone else's negligence or wrongdoing have legal rights, which are defined by an area of law widely referred to as personal injury.
Personal injury law, also known as tort law, exists to ensure that the rights of injured parties are protected and also to prevent similar harms from being committed. The law specifically allows individuals who have suffered injury to recover damages from those deemed legally responsible. Under personal injury law, an individual may be entitled to seek compensation for the following damages:
Death or disfigurement
Medical expenses—past and future
Loss of consortium and/or companionship
Loss of enjoyment of life
Lost wages and earning capacity
Pain and suffering
Permanent disability
More
Personal Injury Lawsuits
A personal injury lawsuit is a civil complaint generally filed by the injured party (or on behalf of the injured party) against the person, company, or government agency accused of causing the harm. All personal injury lawsuits are subject to a statute of limitations, or rule that restricts the time an individual has to file a claim. Statutes vary according to state and the particular circumstances of the case.
Not all personal injury lawsuits make it to court. In fact, many disputes over an accident or injury are often resolved prior to formal proceedings. If an early settlement is reached, both parties agree to resolve the matter out-of-court for an established amount of money. Having a qualified Personal Injury attorney San Diego on your side can help ensure that you receive fair compensation for your personal injury losses and suffering.
Types of Personal Injury Cases
There are numerous types of personal injury cases, including medical malpractice and defective products. Among the most common are:
Car Accidents
Motorcycle Accidents
Truck Accidents
Work Injuries
Wrongful Death
To learn more or to consult with an experienced San Diego injury lawyer, please contact us.